Stop listening to the pessimists
You can beat the market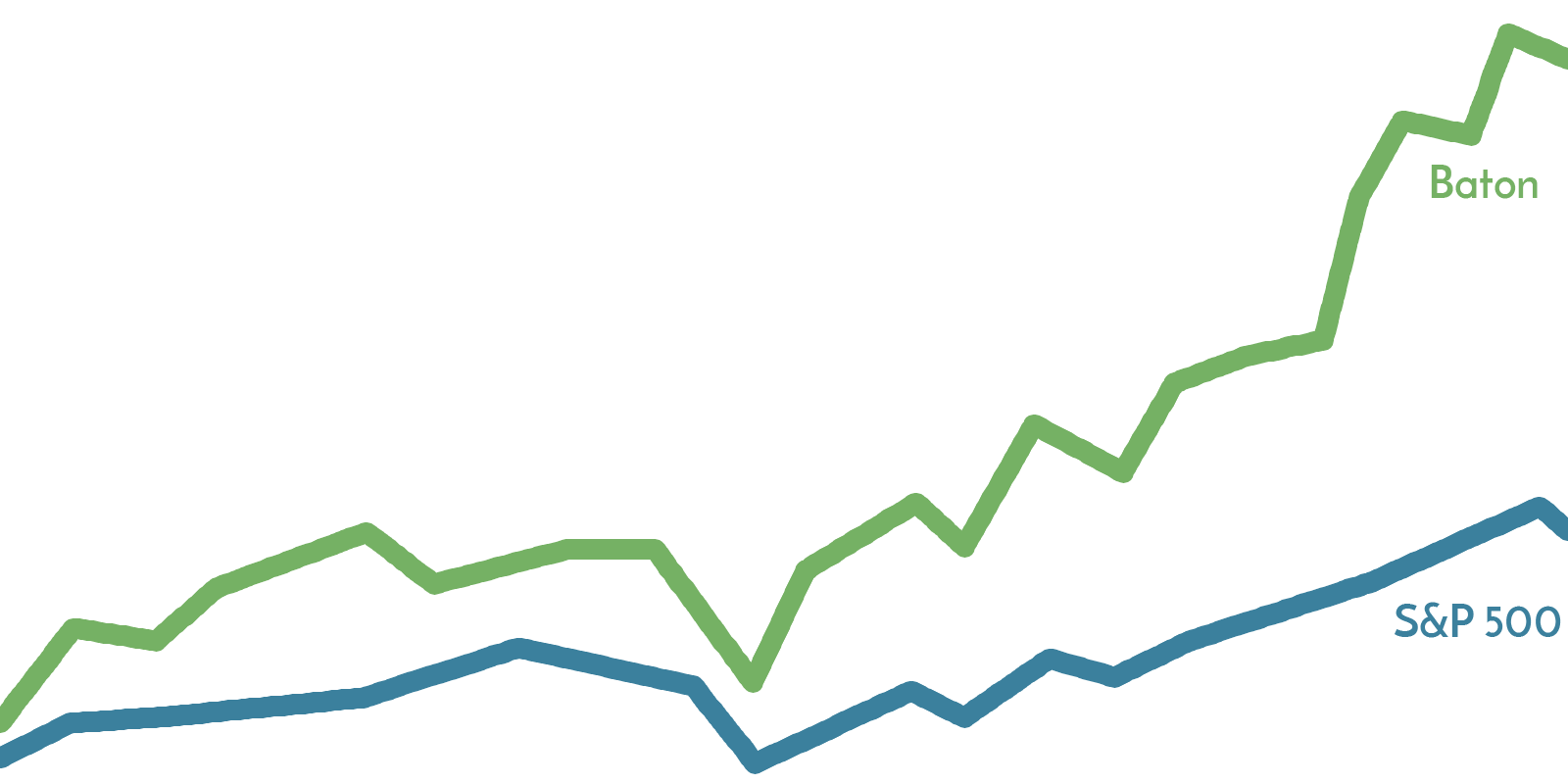 Baton Helps You
Make More Money
Earning Baton's 16% historical average return instead of the stock market's 9%, can mean an extra $2 million in your pocket.
In Less Time
It takes as little as 30 seconds a month to use and can help you retire 11 years earlier.
Exceed Your Goals
Most people think $1 million is enough for retirement. The scary truth is you need a lot more.
Use our Retirement Calculator to see if you're falling behind.
Feels great to finally beat the market consistently and stop all the investing mistakes I used to make. And it's practically effortless.
Performance You Can Understand
A stock-picking system that works hard so you don't have to.
Easy
We tell you what to buy and when to buy it. Three clicks a month, and you're done.
Affordable
That 2% fee you're paying an advisor could be costing you $60,000 or more. With Baton, your cost stays low no matter how much your savings grow.
Honest
We're straight up about our process, our picks, our pricing...everything — including all our past trades.
Is Baton Right for Me?
If you're on the right track to reaching your retirement number... keep doing what you're doing!
If you're falling short, don't panic! But you do need to accelerate your returns and fast.
​​​​​​​​​Only 67% of people who use our quick self-assessment are a great fit for Baton.
Here's What You Get
As a Baton member, you'll receive everything below:
Each Month

Receive an email or push notification with instructions on what stocks to buy and sell. Update your portfolio in just 30 seconds to 10 minutes depending on the broker you choose.

Each Week

We publish a Market Review that keeps you up-to-date on both your portfolio and any larger economic news. Stay informed or ignore it if you're swamped at work or on vacation... we get it.

Anytime

Access portfolio performance via the website or mobile app and stay engaged with the Baton team and fellow members in our community forums.
---
Investing on the Go
We already use apps for banking and paying bills, so of course many of us prefer to manage their investments the same way. You can literally rebalance your portfolio while you wait in line for coffee.
Portfolio Notifications

Monthly push notifications when it's time to update your portfolio

Follow the Market

Track portfolio and individual stock performance

Stay Informed

Weekly market review and portfolio analysis
Download the app today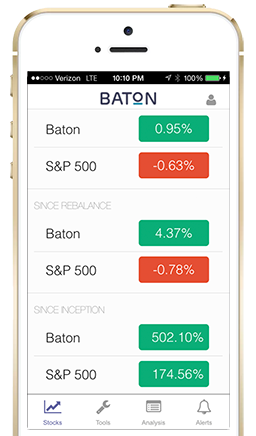 Easy to understand, transparent, and most importantly effective.
Word on the Street
Praise for John P. Reese and his model that powers Baton

"Be Like Buffett"

"Refreshingly Different Approach"

"Deconstructing Buffett"

"Invest Like a Guru"

"So Good at This"

"Warren as Your Wingman "
Let's Pass It On.
​​​​​​​​​At Baton, our goal isn't just helping our members, it's helping our communities. We're proud to be transforming an industry culture to embrace giving.
Don't Miss the Next Portfolio Update
Still Not Sure?
Check out our How It Works page now to better understand:
How we pick stocks
Your portfolio options
Your monthly user experience
Our fees
Our secret to success